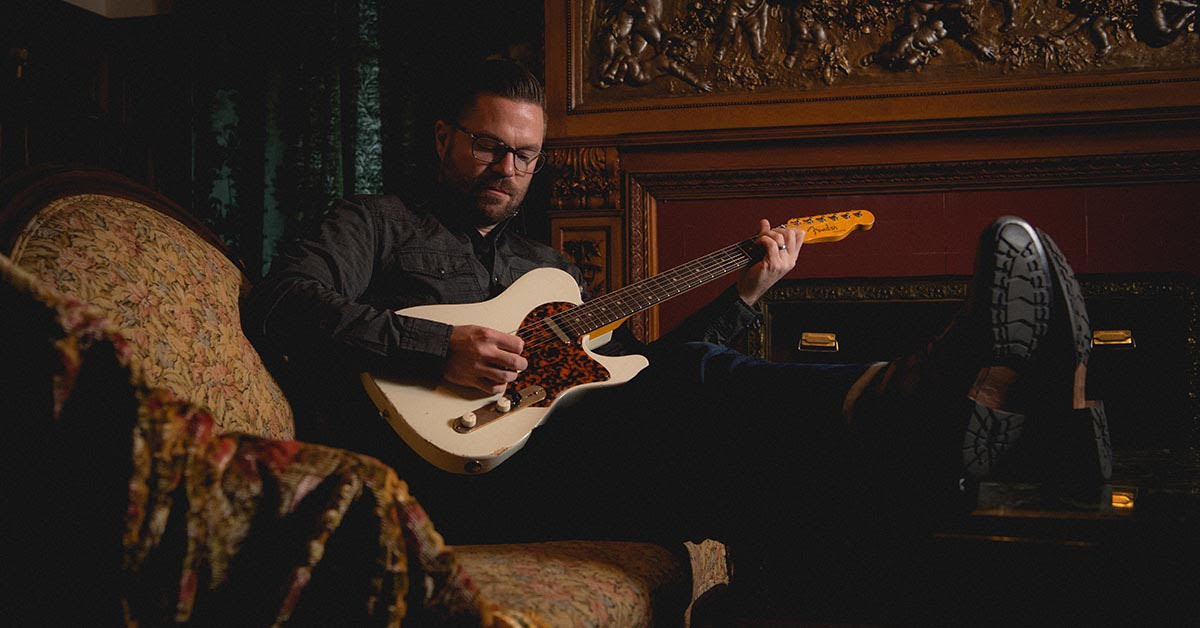 20 Apr

SLEEPLORE WRAPS YOU IN WARM, PLUSH LAYERS OF SOUND

Looking for your new favorite indie artist? (We found him just outside Scranton, Pennsylvania.) American songwriter, producer, and multi-instrumentalist Clyde Rosencrance's experimental project Sleeplore will wrap you in warm, plush layers of sound. It feels like that final, flawlessly enchanting moment riiight before the alarm goes off. Harnessing Rosencrance's 15+ years of professional music experience—both collaborating with and producing for other artists—Sleeplore's songs are high caliber and entirely absorbing. (And he's not just on our radar, either. Alternative Press just featured Sleeplore in their print issue: '100 Artists You Need To Know'.)

Let's talk about Sleeplore's three, recently-released singles. In "Let Go", gloom appears glamorous. Imagine embracing a foggy day for all of its grayness and touching the weightless-yet-moving emotional mists in your mind. If there was ever a song to nudge you out of retrospective stagnation and toward realization and progress in the most soothing way, this is it. (Favorite lyric: "Forget the past, what's done is done. Open up the door, it'll be better than it was before.") "Waited" delivers a slow-simmered indie-alternative sound with a dazed heartache vibe. Reach for this song when you're in limbo and want to hike deep into the woods to be alone with your thoughts. What we love most about this pining track is its intense longing, beautifully punctuated by the grace of real strings and Clyde's tender vocalization. (Favorite lyric: "I waited all night, I waited all day. I withered away, I started to fray.") "Anything You Want to Know" is a perfect calibration of all those early-in-the-relationship feels—and just may make some already-established relationships feel new all over again. Truth: it's the indie love song we've been craving for over a decade. Cheers to Sleeplore for celebrating REAL love. You know, the kind where you suddenly want to share your secrets instead of hiding them. Picture lying beneath a dazzling starry sky with your beloved. Clyde's multi-faceted musical moxie really shines through in this track—he even brings the butterflies. (Favorite lyric: "All those things you said to me, they were wrapped up like a dream.")

Be open to Sleeplore songs hitting a little different each time you listen. After all, it's rare to have the same dream twice. (Listen while you read.) In this interview, you'll learn: what prompted Clyde to launch Sleeplore; the story surrounding Sleeplore's elegant name; why "Let Go" made for an ideal debut release; how Clyde crafted the dazed heartache vibe in "Waited"; why his swoony side surfaces in "Anything You Want To Know"; who's behind those gorgeous music videos; what advice Clyde has for artists wanting to challenge themselves; which songs he's been vibin' on (+ get access to his artist playlist); and what's next for Sleeplore.

Q + A:

Your shiny bio relays an impressive 15 years of professional music experience—including numerous collaborations and producing for other artists through your studio, Republic Audio Studio. What conditions in your life aligned and/or prompted you to launch Sleeplore at this particular moment in your career?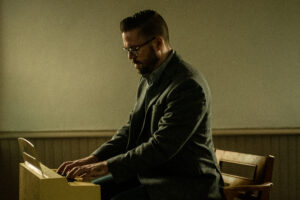 Clyde: That's a great question because, without a change in conditions, I may not have started this wave of releases when I did. Being busy producing other artists' music and doing session work, I haven't been able to devote quite as much time to my own material the past several years. I would still write, but sometimes not as often, and would usually not see things all the way through. When the pandemic hit, I wrapped up a few ongoing, in-person projects and then stopped taking in-person clients, shifting to remote work only. That work has sustained thankfully, but doesn't always require as many long days as it would if I had a band come into my place to start a new project. With that extra time, I began to work on a few new projects—one of which was the decision to start finishing and releasing some of the music I had written over the past several years.
The band's elegant name could not be a better fit for its sound. Is there a story behind the Sleeplore name? Can you tell us what it means to you?
Clyde: I struggled with a name for this project for a long time. I always wanted to have a cool name that was one word. Not necessarily like Elvis or Prince, but a sort of ambiguous name that could encapsulate the vibe of my music and be open to different meanings. I actually collected names, works, lyrics, etc. in a notebook on my phone for a few years.
When the moment came that I decided I had to start releasing this music, I looked back at the notes several times and finally came upon one that I had flagged: 'Sleeplore'. It hit me in that moment. I don't believe the word has any true meaning, but it always felt like it did. It's open for interpretation. A lot of the names I had noted focused around things like that state you're in when you're first waking up but aren't quite awake, or if you wake up in the middle of the night and your mind is active. That's one of my favorite times for new ideas. I think it could also mean things like the 'lore' of sleep, as in, I've heard about it, it sounds great, but I don't get much of it. I think for others it could be sort of about stories that you dreamt up at one time or another, like many of the songs I have. Many came from a subconscious place rather than sitting with the objective of telling a specific story.
We KNEW we had to dial in a full-length interview after hearing "Let Go" for the first time. How did you manage to compress so much invitingly weightless yet moving emotion in just a few minutes? Did you envision this seamless play between sound and vocals at the song's inception OR did your writing/recording process lead the way?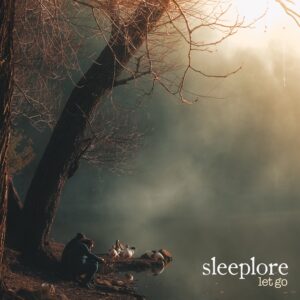 Clyde: Thank you so much! "Let Go" has always been a piece for me that I heard in my head as sort of this encapsulating experience as opposed to taking a more traditional approach. I've had the idea for the song for quite some time, but once I decided on a path for Sleeplore it became much clearer to me how I was going to finish the song. A lot of that one came from the mixing stage as well. I like to experiment a lot at that stage just to see where I can push things and what fun I can create for the listener. Some of my favorite music has elements to it that you might only catch after listening to it a few times, or with headphones. That's so much fun. I even take that approach when mixing other genres as well—it's become something that people really like about my production style.

What about "Let Go" made it an ideal debut release for Sleeplore?
Clyde: There were a lot reasons that I chose that as the debut. To be totally honest, I almost treated it as a throwaway because—as a new artist who doesn't yet have a presence on places like the streaming services or social media—you almost need a release to help you stake your claim so that you can begin building those things. "Let Go" has always been one of my favorite little things that I've written just based on the simplicity and messaging, and I thought the timing was also appropriate given all that we've gone through over the past year as a society. What I didn't realize is just how much all of that would resonate with listeners. It turns out people really liked it.
Your second single "Waited" delivers an intense longing that lingers. How did you prepare yourself to record these pining vocals in-studio? Which sonic elements in "Waited" did you feel were most crucial to creating the track's dazed heartache vibe?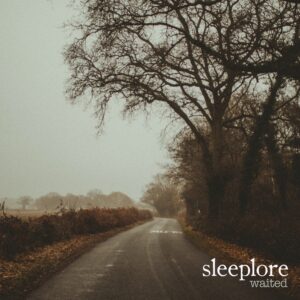 Clyde: "Waited" was another track that I've had around for a while that was dear to me. For the longest time it existed as just guitar and vocals. Another simple song at the core, it really relies heavily on those two elements. The bridge part was a later addition to the song, but became one of my favorites as it allowed me to really take it in a different direction sonically while also furthering the story. As for the vocals, I recorded some of the parts at separate times, but ultimately it was focusing on what sort of 'colors' they were painting at every given moment. I like to think of a song as having 'scenes' like in a movie, and try to imagine what that scene should look like. When recording the vocal tracks on this song, which there are many, I tried to keep that visual in mind to really help put the listener in a certain place.
The pieces that I think really put the track over the top were some of the later additions that really helped define those colors. I added a sort of spaghetti western style guitar in the bridge (ala Portishead) that helped add some drama to the section. The brass (euphonium) that Tim Zieger added really helped warm up the overall sound. When I asked him to play on it, I described what I thought it was lacking as sort of a glue to weave the sections together—and he nailed that.  He also helped me with the piano part. I wrote a simple piano melody that you hear after the verses, but where he really helped it shine was in the outro section. It almost adds a cinematic vibe.
Lastly the strings that were added play a similar role in that they add some drama and cinematic quality. I recently collaborated on a track for a new project called Kare Lai that was released in March (played some guitar and mastered it), and one of the members of that group, Piotr Stanisz from Poland, offered to play some strings on it. I basically just shared the track with him and he immediately turned around and sent me several takes of some ideas that I used, and they turned out beautiful. It's always nice to have real strings in a track. They add such depth and elegance.
Where did you find yourself writing the first and final lyrics to "Waited"? + Can you touch on the song's meaning/message?
Clyde: It's funny, most of the time when I write the music comes first and I usually just put some gibberish or placeholder words for lyrics that seem to fit phonetically. This song was no exception to that, and I really didn't change the placeholders because I thought they worked well. So, I didn't write it with a specific story or subject in mind. But, in general, the song is just about waiting or longing for something to the point of anguish. I think we've all been in a place where we were waiting for someone or something to come through like we envisioned it in our mind all along. Maybe it's about having certain expectations and waiting for those to be fulfilled.
The bridge part that I added in later is almost like a direct response to that just sort of looking for the person you're thinking about to say something, anything, to give some indication of where things are at. For the final lyrics, my thought was to take that feeling of withering away while waiting and make it real by almost making it feel like the words were doubling down but also falling apart. And the rest of the instrumentation and vocals overtake it to push the lyrics into the background, as if you've been waiting so long, you're just sort of drifting away or daydreaming.
TRUTH: "Anything You Want To Know" is the indie love song we've been craving for over a decade. How did you tap into your swoony side to bring us a track that's ten times sweeter than your previous releases?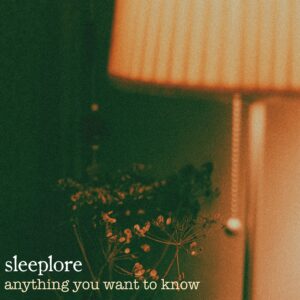 Clyde: Well thank you once again! This is actually a track that I wrote years ago when I was in that new phase, so it was so fresh and it was just sort of my reaction and feeling at that time. It just helped to be living in that moment, so the inspiration was so real. At that time, I was listening to a lot of things like Tegan and Sara and Silversun Pickups and I think some of that really played into the overall vibe. I also wanted to give the song the push or drive of sort of an electronic indie song with maybe even an element of some dance music that has driving percussion.
What were the most exciting and challenging aspects of recording "Anything You Want To Know" in-studio? How would you describe its sonic footprint in relation to "Waited" and "Let Go"?
Clyde: Much of "Anything You Want to Know" I recorded so long ago. This made it a challenge to sort of bring up to par, but I really wanted to retain some of the original elements that I think defined the track—like the vocals and the guitars. I did end up redoing the drums and bass to help give it some new life.
As for the sonic footprint, I'd say this one has a more straightforward core to it that has its own identity (the percussion, driving guitars, solo), but there are some small similarities from a mix standpoint that help weave a common thread.
Let's talk about lyrics. How do you ready yourself to write? Have the three recently-released Sleeplore tracks followed a similar approach when it comes to songwriting OR did each originate in a different way?
Clyde: As a songwriter, I feel my lyric writing is one of my weakest areas. I've always focused so much on the instrumentation, arrangement, and production, that I didn't invest as much in the lyrics. Usually, my approach is to get the music that's in my head out first. Then I'll typically either capture some gibberish vocal melody that I think fits, or even some stream of consciousness words over the music. I rarely write with a story in mind before I put pen to paper, though I've been experimenting with at least being more intentional about that for some newer tracks. These first three tracks fall into the category of 'put down something that seems to fit, then alter it later'. Often though I get comfortable with some of those placeholders and end up keeping many of them. I think the exception to that would be the bridge in "Waited" and most of "Anything You Want to Know," where I really tried to further the narrative in an intentional manner.
Who helped you bring these singles to life? + What inspired you to create them?
Clyde: So far, the Sleeplore tracks have all been self-produced. I've also played all the instruments with the exception of a few parts on "Waited" where I wanted some friends and long-time collaborators to take part in what was happening and to add some different perspective. Alan Hancyc has been a long-time friend and collaborator. He played bass on a very early version of the song, so it seemed very fitting to ask him to play on the final version. He always adds his own twist, which is what I was looking for.
When I was near the end of the basic production, I reached out Timothy Zieger for some thoughts on a few specific areas. Tim is one of my favorite songwriters. I've had the privilege of mixing and mastering some of his work as well as fully producing a record for him in 2020. I mentioned to him I needed some "glue" in a few sections and that I thought some of his brass work (euphonium) would be just what it needed. It was a perfect addition—somber, elegant, and added a slight sophistication. I also had a small piano part in the verse/refrain that I loved, but never developed for the whole song. I asked him to take a shot at seeing what came natural to him, and he sent me a few takes of that as well. What he did in the outro became one of my favorite parts of the song.
I also reached out to a newer collaborator named Piotr Stanisz when I was looking for some live strings. I recently worked on a track with Piotr where I lent some guitar tracks and also mastered the final mix for them. Piotr played the strings on "Waited," and it added such depth and beauty to the track beyond what I could do myself as far as any string parts.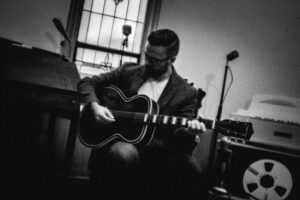 As for inspiration, I think it comes in many forms. I can't say I've ever really sat down with any specific intention of writing a piece based off of one specific thought or concept. For almost all of my songs, it usually starts with a mood, some type of basic instrument sound, a chord structure, and eventually a melody.
Having said that, I can say that "Let Go" was loosely inspired by a few life moments that I've had where I just realized that sometimes things don't always go as planned and you need to just see past it, because in the grand scheme of things, it doesn't really matter and there's always something to look forward to on the other side. "Anything You Want to Know" came at a time when I first met my wife, Lisa, and we were dating. So that one definitely came from a sort of natural place and a moment where I was feeling all of those "new" things.
Your music videos! The black-and-white visuals in "Let Go" feel delightfully trippy; the grand vistas in "Waited" eventually sweep us into outer space; and the tender scenes in "Anything You Want to Know" vividly depict the euphoria of falling in love. What was it like working with Paul Garcia on these videos + what else should we know about them?
Clyde: It's been great because I've really given Paul Garcia very little direction from my end as far as what I might be looking for. He's been able to take some loose concepts and really work them into something special. I'm usually a pretty hands-on person with most things, so naturally I initially approached the first video trying to do it myself. I know a little bit of video editing, but I'm not as proficient as I am with audio. I spent a few hours on it and thought to myself, this is time I could be using to create more music. So, I sought out a partner to help me create. I sent Paul what I had already filmed myself for "Let Go", gave him some thoughts, and he really ran with it. He'll usually put together some concepts, send them over for feedback, and then I'll give direction to move it forward. I love being inspired by other people's work and developing from there. It's one of the reasons I love producing music that others have written.
As a seasoned producer, what advice can you share with someone who may have already released a little music but wants to level up and challenge themselves artistically?
Clyde: There's really no wrong way to approach music! However, there may be more efficient and effective ways. There are also best practices to help you achieve a certain sound if you're after something. Having an opportunity to work with someone who is experienced can help you get there quicker and learn along the way.
Also, collaborate as much as you can. This is another great way to learn. There are so many ways to approach making music from a technical standpoint as well as from a song craft standpoint. Working with other songwriters is a great way to naturally pick up some new approaches and ideas that can help you expand your creativity and get over plateaus you might experience.
If you really want to level up your sound, consider hiring an experienced professional mixing engineer and mastering engineer to really carve out the finer details of your production. A really good mix can completely change your music in a huge way. This is one of my favorite parts of the process—and I know just how much this can impact a track in a good way or a detrimental one.
What song/album/artist have you had in heaviest rotation lately?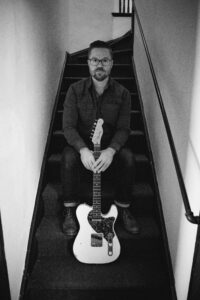 Clyde: This is a really tough one! Usually, I have a very broad taste. As a producer I'm always exploring. Lately I've actually been going back and listening to a lot of things that I loved in the early 2000's as that was a very influential time for me (along with the 90's). For example, Tegan & Sara's The Con and Radioheads In Rainbows were on rotation heavily. A lesser-known group called The Stills was also a big influence at that time with a record called Logic Will Break Your Heart. I had a band at that time called The Magdalyns, and we were doing a college radio campaign for CMJ reporting stations and The Stills had a track that was also showing up in the same charts called "Still In Love Song" that I really loved. That whole record is still amazing to me.
I'm also going back and getting better acquainted with some of the artists that I've been told Sleeplore sounds like, such as Death Cab for Cutie. I never really got that familiar but always had some level of appreciation for them. What I realized going back and listening through their catalog is that there were so many songs along the way that I was very familiar with, and were somewhere deep in my memory but never realized it was them.
*BONUS: Hear ALL of Sleeplore's tracks + what Clyde's currently vibin' on by listening to his Spotify playlist: Sleeplore: friends & influences.
Name three things you want fans to know you.
Clyde: 1. Sleeplore is an experimental project that consists of both new and old songs I've written over a long stretch of time. 2. One of my favorite things is collaborating with others and really reacting to each other's work. 3. There is a lot more to come. I have a lot of songs that I've earmarked for this project, and I have been writing a lot as well.
What's next for Sleeplore? Do you have any plans to go live on social media +/or go on the road once venues up again?
Clyde: There's a lot in store! So far things have been moving quicker than I had anticipated, and I'm already talking about a lot of things that I didn't think that I would be, such as merch, physical releases, potential live shows, etc.
I just launched a website, sleeploremusic.com, with a merch store that I have plans to continue to add to and expand out with some cool designs that are in the works from a few artists.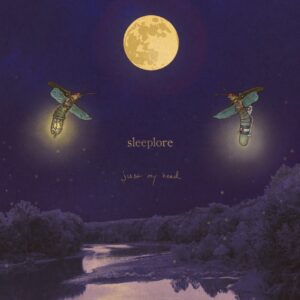 I'm really stoked to be releasing my 4th single—"Just My Head"—on Friday, April 23rd.  I have a special guest on the track, and some really great artwork that I commissioned. Following that I'll be releasing an EP in May/June timeframe that I will be producing physical copies of in addition to the online availability, since I've had a lot of requests for that.
I'm also very excited that I have a lot of other songs in the works. I already have a few collaborators lined up to come into the studio once things get a little more "normal". Those are on a little bit of a pause, but I'm really excited to get to work on them. I'm envisioning a few different "sets" of songs that have a bit of a different sound. Not sure if they will be best as singles, EP's, etc., but we'll navigate that as they unfold.
Lastly, I'm working on a number of collaborations that will be released throughout the year. One of my favorite things during this pandemic has been that it's forced us to work together in different ways and find new approaches. We always learn from that, and I think it will have a permanent impact on how we collaborate for some people who weren't as used to the virtual approach. I've been doing it for years as a producer/engineer, but I don't think many artists realized just how easy it is.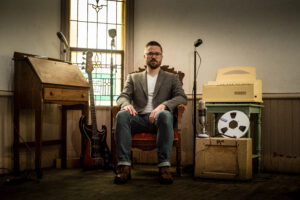 Connect with Sleeplore:
Instagram: https://www.instagram.com/sleeplore.music/
Facebook: https://www.facebook.com/sleeplore/
YouTube: https://www.youtube.com/channel/UCAAc7GeyNNwnTEfflfJikCw
Spotify: https://open.spotify.com/artist/6rXftKyPJ4l0HBCP016gHE?si=x-taDbvCRu2sz95SdpL2xg
Listen to Sleeplore:
Spotify: https://open.spotify.com/artist/6rXftKyPJ4l0HBCP016gHE?si=x-taDbvCRu2sz95SdpL2xg
Soundcloud: https://soundcloud.com/sleeplore
Bandcamp:  https://sleeplore.bandcamp.com/
Apple Music + iTunes: https://music.apple.com/us/artist/sleeplore/1539237524

Listen to Sleeplore's Spotify playlist:
Sleeplore: friends & influences

Photos by Keith Perks at 1120 Creative 
"Just My Head" Album Art by Nathan Tersteeg
All other Album Art by Clyde Rosencrance