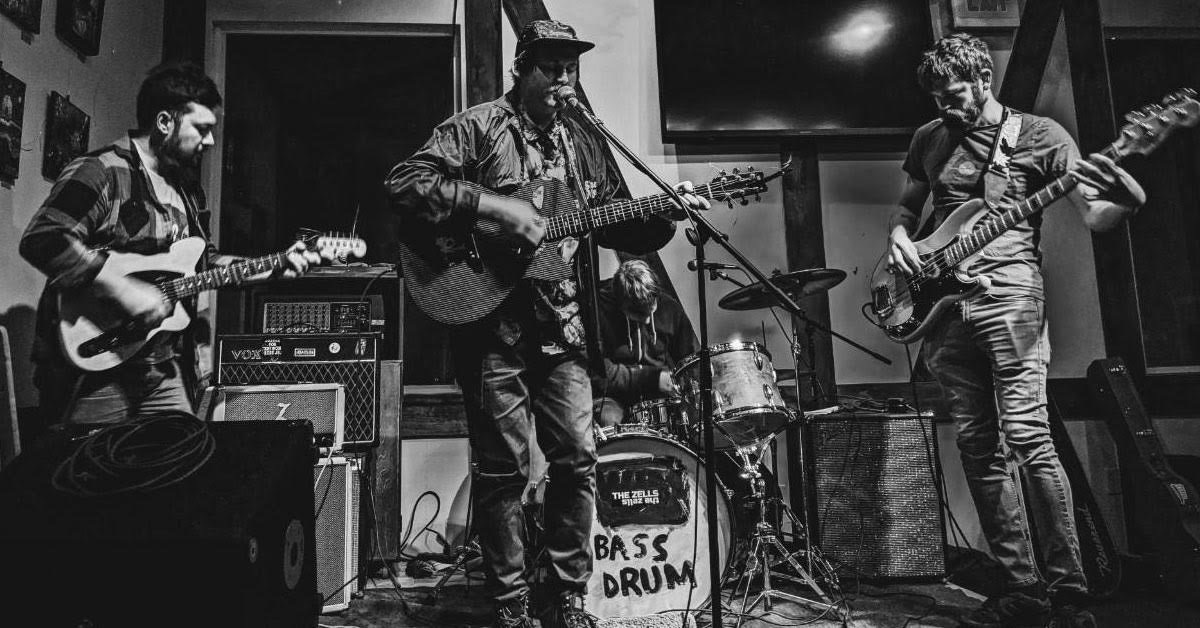 05 Jan

THE SOODS SERVE UP SPARKLING NEW INDIE WITH ORNAMENTS OF AFFECTION

New year. Better vibes. Treat yourself to Ornaments of Affection, The Soods's second full-length, full-bodied, full band indie rock album that will carry you away to lush, sonic landscapes. The Soods is led by mastermind and multi-instrumentalist Jason Roy, who writes and records songs with his friends, otherwise known as some of the raddest musicians in the indie-alternative space. (He'll drop more than a dozen names in the Q+A.)

If you've been following the blog, you know I've covered a number of collaborations before; but, this album is unlike any of the others. It's an intricate dance, with many artists gracing each track in rotating roles. And, despite the group's size, there's a rare respect and balance of the individual in relation to the whole, which yields in sound what I can only describe visually as the gratifying harmony of color on a solved Rubik's cube. (Listen while you read.)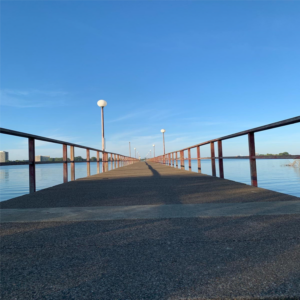 Let's talk songs. The Soods serve up 13 sparkling new indie tracks on Ornaments of Affection. While each hits a little different, all bring an elixir of weightless introspection and deep longing—sometimes for the past, other times for the future. Like Jason, I can't pick a favorite, but here's my top 7 (haha) and why each made the cut: "Wounded Cardinals" (takes my breath away *every time*); "Hard To Conceal" (the attitude + energy); "Early Morning Winter Song" (deeper than a heartache, a soul-ache); "Begonias" (stirs your love into movement); "Interloper Overdrive" (cool like a vintage jacket); "Stealing Glances" (feels flirty + a little dangerous); and "Melancholia" (drifty, dreamy, swoony perfection). While you'll want to listen to this album amidst your regularly scheduled activities, I also dare you to set some time aside and give it the attention it deserves: wear your best headphones, start at the beginning, and close your eyes.
I''ll leave you with the album's opening lines, which I consider a gift of hope for this New Year:
Hold on tight to your friendships and love,
like the planets above, they're beautifully aligned.
We don't know what the future may bring,
but the songs that we sing will be all that's left behind.
—"Oh, Mersey Days"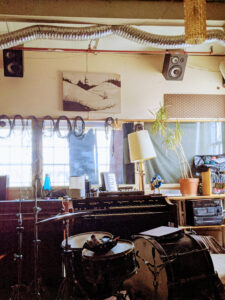 In this interview, you'll learn: the story behind The Soods + what compels Jason to create music; what feelings greet listeners on Ornaments of Affection; which verse in "Early Morning Winter Song" inspired the album's title + what it means; why Jason loves the GTG Records indie label + working with Tommy McCord; which noteworthy musician friends helped Jason create Ornaments of Affection; all about Jason's intimate collaboration process—from songwriting to recording; what album track was the most difficult to complete + why it's impossible to pick a single album favorite; the origin of The Soods's new single "Gristle Park"—a collaboration with Nordy; Jason's most-loved Sood's verse + why it's more fitting now than ever; which artists Jason currently feels really attached to + which upcoming albums he's eagerly awaiting; plus what's next for The Soods. (Yes, there's *already* a NEW album in the works + Jason even reveals its title!)
The conversation from our interview is chronicled below in a pure Q + A format.
Q + A:
Introduce us to The Soods. What compels you to create music? (If you'd like, you can also share your music history + what instruments you play.)
Jason: Well, honestly, I don't think I can live without creating new music. As corny as that probably sounds. I really don't know how to not write and/or play music at this stage. I've tried—and it never goes well. I just get sad and then end up finding that spark again in something new. I was diagnosed pretty late in life a few years ago with what was once known as Asperger's, but now is just part of a broader autism spectrum disorder diagnosis. For whatever reason, at that point, I got really into Guided By Voices (probably bordering on the obsessive), and I was into a half dozen side projects as well (for f*ck's sake, haha). And I just started writing these song titles down. After I wrote down probably fifty, I started recording one a night.
I'd begin with a title and spend 30-60 minutes coming up with the framework of a song. Sometimes they were bits of songs I'd never finished; other times they were full-blown improvisations, where I'd just pick a tempo, program a drum or percussion loop, and play. One of my favorites from the first Soods album is a song like that, "Teenage Sunburn". I couldn't play you that song if you paid me a million dollars, but it captures a moment and a feeling—and I think it's cool it only ever got played once before it hit people's ears. My main instrument is guitar, but I also get to play a lot of keys and bass when recording for The Soods. And I manage to sneak in a drum part here and there as well.
What sounds + feelings will greet listeners when they hear your latest album, Ornaments of Affection?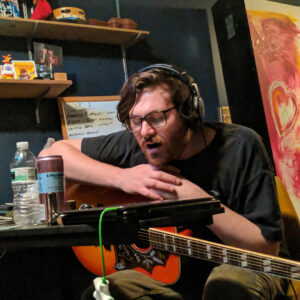 Jason: I think one recurring thing I've read in reviews is "waves of nostalgia". I think nostalgia can be a beautiful thing in audio form. I have always loved songs that could take me somewhere else—especially now with the world in tatters. Music has always been an escape for me for as long as I can remember. Other than that, I think there is what I would describe as a melancholic hopefulness.
Is there a story behind the album's title?
Jason: It comes from a line in "Early Morning Winter Song", and it's about people who get meaningful tattoos to acknowledge people in their lives: "ink adorns your limbs/ornaments of affection/ worn like permanent stains of undying connection". It's kind of like carrying a piece of them with you forever. I like the sentiment behind something like that.
Tell us what you love about the GTG Records indie label. What was it like to collaborate with Tommy McCord once again on this new album? Can you share details about *either* your most memorable OR most pivotal studio session?
Jason: I think what I love most is the creative freedom and that Tommy likes my/our music enough to help me release it. It's been great getting to know other people on the label—especially at the yearly GTG Fest weekend. I've had a few people collaborate with me from GTG and more that have reached out that are on the to-do list as it were!
The most memorable session from this album was probably recording the vocal takes for "Morning Harold!" as well as writing "Stealing Glances" and "Begonias" late in the recording/mixing process. I remember actively thinking after recording "Begonias" that I wanted to get that out immediately. I really love that song, and it's the one I listened to the most in the mixing process, etc. Tommy has been a good sounding board above all, and he's very encouraging. One of the nicest people in the biz. It'd be between him and Ten Clay for that title.
What other friends appear on/contributed to creating Ornaments of Affection? (We'd love to hear about anyone or everyone who was instrumental in its release.)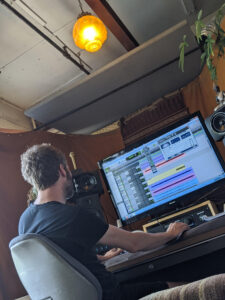 Jason: My primary accomplices are Steven Meltzer, who sings 2 tracks (ex-Elroy Meltzer) and Matt Ten Clay (Matt Ten Clay & the Howlers, owner Amber Lit Audio), who helped co-produce the album, closely followed by Shane Tripp and Chris Coble. Matt handles all the mastering, and we collaborate on the mixing. He also sings lead on 3 tracks (I wrote lyrics for his 3) and plays or sings something on nearly all of them, if not all. Steven also sequenced the album, which was a load off because I hate that part sometimes. It either comes really fast or not at all for me when finding a flow. Shane Tripp sings 2 songs on this one, Chris Coble (McWeakerton) sings 3, Ryne Clarke (the Ryne Experience) sings and plays guitar on 1, and Patrick Wieland (Lazy Genius) sings the closer and drums on a few tracks.
"Melancholia" also features John Harrell, who plays keys in Lazy Genius. Paul Geoghan played a lot of bass and contributed keys parts, Haleigh Potter (ex-Elroy Metlzer) drummed on a good portion of the album, and my friend Garth Mason (the Rutabega) drums on several as well. My old buddy Jordan Stricklen (ex-Flashing Blue Lights) plays on several, too. He's my go-to string guy, and I generally bug him as much as I can for slide guitar parts. I got Timmy Rodriguez (Sleeping Timmy, Drinking Mercury) who's in a couple GTG bands to sing one as well as Jonny Aimcrier, who played a nice slide part on "Begonias". (I was terrified to miss somebody, so I've asked Ivy to attach the full album credits at the bottom of the interview.)
Looking back, what was the most difficult track to complete on this album + why? Do you have an album favorite?
Jason: The most difficult to complete was probably "Stealing Glances" because the demo of it had such a cool vibe and it was hard to capture that spirit in the mixing stage. Also, I got so well acquainted with the demo mix that the album version still seems fresh to me. My favorites on the album seem to rotate between "Morning Harold!", "Begonias", "Wounded Cardinals", and "Oh, Mersey Days". It just kind of depends on the day. Ultimately, I like them all and love them in their own individual ways, it's just sometimes a case of who may be singing the song. I love collaborating with everyone involved so much that it's hard to pick favorites…plus the egos on these guys. It's outrageous. I kid.
Lyrics. Where do you capture them + what do your songwriting sessions consist of? Of all the music you've released to date under The Soods banner, do you have a most-loved lyric or verse?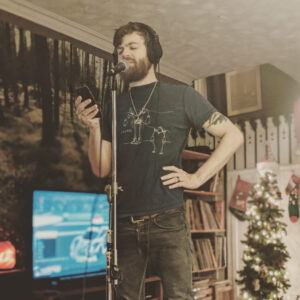 Jason: Well, typically the singer of the song has written the lyrics. There are a few exceptions along the way, and this record is no different. I wrote the lyrics for the 3 songs Matt Ten Clay takes lead vocals on for Ornaments of Affection. Every song starts with me writing/recording the instrumental. I'll get it to a point where it's fleshed out enough (complete with title), and then figure out who I'd like to hear sing it. At that point, I'll get a demo over to the singer in question, and they'll give me the 'yay' or 'nay'.
Matt, Pat, and now Shane (he recently moved to Asheville, NC) will usually record their vocals remotely and then send 'em back, and we'll go from there. Steven and I are neighbors and, prior to that, we started a band called Elroy Meltzer together, so we've always gotten together to track his vocals. Chris Coble does a lot remotely, but we try to get together to do them in person when we can. The variety is really nice. Timmy Rodriguez and Ryne Clarke also recorded their own vocals for this album in their home studios.
My favorite verse probably comes from "Cover From The Night" (on split album Drinking Mercury//The Soods), which I wrote the lyrics for. "These times in which they find us/Bias of messengers blind us/Burned out beatniks in battered cars/Filling bars, numbing scars". Sadly, it seemed fitting then and probably is more so now.
We need to know more about your NEW single "Gristle Park"—a collaboration with Nordy. What can you divulge about this hypnotizing track?
Jason: "Gristle Park" is a song that came from a mutual love of The Smiths that Nordy and I share. One night I wrote that song and it felt a little Smiths-y to me. I asked Nordy if he'd write lyrics and sing on it, and—lucky for me—he said 'yes'. Nordy is a ridiculously talented guitarist and, honestly, an underrated singer. I like the song because it kind of ended up being sonically somewhere between Interpol and The Smiths, which I thought was sort of cool.
Which artists + songs have you felt really attached to lately? Are there any new or new-to-you artists you think we should listen to?*
Jason: Well, Shane Tripp (guitar, synth and vocals) has a new solo album coming out that I know Patrick (vocals, guitars, drums) and Matt (vocals, production, multi-instrumentalist) both have worked on, so I can't wait for that. Speaking of Pat, his band Lazy Genius *should* have an album coming out in 2021, so add that to the list as well. (It could be 2022, though, haha. They tend to really take their time but it's *always* worth the wait.)
Otherwise, I'm looking forward to the new Kiwi jr. album and the new Shame album the most! I'd also be completely full of sh!t if I told you I wasn't looking forward to McCartney's new one this month. I definitely would recommend Andy Bell's (Ride) solo album from earlier this year and the latest Guided By Voices album, Styles We Paid For. New or new-to-me, I really like IDLES's latest album Ultra Mono; the Strum & Thrum: The American Jangle Underground 1983-1987 compilation album that Captured Tracks released not too long ago; annnnnd Ian Skelly's Drifters Skyline album.
*BONUS: Hear ALL of The Soods's tracks + what Jason's currently vibin' on by listening to our exclusive Spotify playst: MMM: The Soods.
What's next for you + The Soods?
Jason: I'm currently working with Matt and Steven producing the next Soods album, A Ray Rewired. We're probably about 70% done at this point. I'm really excited to get that out because there are a few tracks we couldn't get recorded in time for Ornaments of Affection that I really like. The bulk of the songs come from a batch that Steven and I wrote remotely in March/April when everything was grinding to a halt. Recording those with Steven, once we could get together, felt like playing music for the first time with a friend as a teenager. Those songs kind of helped me not crack up this year. I'll be forever grateful to have a songwriting partner like Steven. He's always got ideas upon ideas.
Connect with The Soods:
Facebook: https://www.facebook.com/thesoods
Twitter: https://twitter.com/Biddefordboy
Spotify: https://open.spotify.com/artist/4t5qu7PnSwMh50qrLv9ReG?si=9CXEamOxS_yvkdJXk8FEMA
Listen to Ornaments of Affection:
Spotify: https://open.spotify.com/album/5Wjlfb2w0je3sf74czPxsH?si=qgNpMvY9S167-Qf6-y_z_Q
Bandcamp: https://thesoods.bandcamp.com/
Apple Music + iTunes: https://music.apple.com/us/album/ornaments-of-affection/1534309896
Listen to what The Soods is Listening to (our exclusive playlist):
MMM: The Soods
Large Live Photo by jenQphotography.com
Album Art by Dominic Ryan Photography
Studio Shots by Jason Roy, featuring (in order of appearance): Steven Meltzer, co-producer Matt Ten Clay, and Shane Tripp.
***
Album Credits for Ornaments of Affection:
Oh, Mersey Days (Roy/Tripp) – Shane Tripp (lyrics, lead + backing vocals), Jason Roy (acoustic 6 + 12 string guitars, lead guitar, electric guitar, bass), Matt Ten Clay (backing + harmony vocals), Garth Mason (drums)
Wounded Cardinals (Roy/Ten Clay) – Matt Ten Clay (lead + backing vocals, harmony vocals, lead guitar, shakers) Jason Roy (lyrics, acoustic 6 + 12 string guitars, keys, tambourine), Paul Geoghan McWilliams (bass, keys, synth strings), Garth Mason (drums)
There To Be Had (Roy/Tripp) – Shane Tripp (lyrics, lead + backing vocals), Jason Roy (acoustic 6 + 12 string guitars, electric 6 + 12 string guitar, lead guitar, bass, keys, percussion, drums), Matt Ten Clay (electric guitar)
Hard To Conceal (Roy/Rodriguez/Stricklen) – Timmy Rodriguez (lyrics, lead + backing vocals, harmony vocals), Jason Roy (acoustic guitars, lead guitar, tambourine), Jordan Stricklen (bass, guitar solo), Matt Ten Clay (backing vocal), Garth Mason (drums)
Morning Harold! (Roy/Meltzer) – Steven Meltzer (lyrics, lead + backing vocals), Matt Ten Clay (backing + harmony vocals, electric guitar), Jason Roy (6 + 12 string acoustic guitars, electric guitar, lead guitar, bass, organ), Haleigh Potter (drums)
Early Morning Winter Song (Roy/Ten Clay) – Matt Ten Clay (lead +backing vocals, harmony vocals, electric guitars, lead guitar, keys), Jason Roy (lyrics, acoustic guitar, glockenspiel, keys, drums), Jordan Stricklen (synth strings)
Begonias (Roy/Coble/Ten Clay) – Chris Coble (lyrics, lead + backing vocals, harmony vocals), Jason Roy (6 + 12 string acoustic guitars, drums, piano), Matt Ten Clay (bass, harmony vocals, harmonica), Jonny Aimcrier (slide guitar)
Interloper Overdrive (Roy/Ten Clay) – Matt Ten Clay (lead + backing vocals, harmony vocals, handclaps, synth, electric guitar, tambourine), Jason Roy (lyrics, acoustic guitar, electric guitar, bass, handclaps), Garth Mason (drums)
Star Wars Backpack (Roy/Coble) – Chris Coble (lead + backing vocals, harmony vocals), Steven Meltzer (backing vocals), Timmy Rodriguez (backing + harmony vocals), Jason Roy (acoustic 6 + 12 string guitars, electric guitar, lead guitar, tambourine, shakers), Paul Geoghan McWilliams (bass), Matt Ten Clay (acoustic guitars), Patrick Wieland (drums)
Cosmic Radio Burst (Roy/Clarke) – Ryne Clarke (lyrics, lead + backing vocals, harmony vocals, electric guitar, lead guitar), Jason Roy (acoustic guitar, electric guitar, lead guitar, bass), Matt Ten Clay (backing vocals), Haleigh Potter (drums)
Nomadic Marine Biologist (Roy/Coble) – Chris Coble (lyrics, lead + backing vocals, harmony vocals), Jason Roy (acoustic guitar, electric guitar, lead guitar, bass, arcade synth), Matt Ten Clay (backing + harmony vocals). Timmy Rodriguez (backing + harmony vocals), Patrick Wieland (drums)
Stealing Glances (Roy/Meltzer) – Steven Meltzer (lyrics, lead + backing vocals), Matt Ten Clay (backing vocals), Jason Roy (acoustic guitars, acoustic lead guitar, bass, organ, piano, percussion, synth), Jordan Stricklen (slide guitar), Garth Mason (drums)
Melancholia (Roy/Wieland/Harrell) – Patrick Wieland (lyrics, lead + backing vocals, harmony vocals, drums, electric guitar), Jason Roy (acoustic guitar, synth bass), John Harrell (keyboards), Matt Ten Clay (harmony vocals)
The Soods are:
Jason Roy
Steven Meltzer
Matt Ten clay
Shane Tripp
Patrick Wieland
Jonny Aimcrier
Ryne Clarke
Chris Coble
Paul Geoghan
John Harrell
Garth Mason
Haleigh Potter
Timothy Rodriguez
Jordan Stricklen
Produced by Jason Roy, Matt Ten Clay and Steven Meltzer
Mixed by Matt Ten Clay
Additional mixing by Jason Roy
Mastering by Matt Ten Clay
© The Soods
GTG Records 2020
GTG137