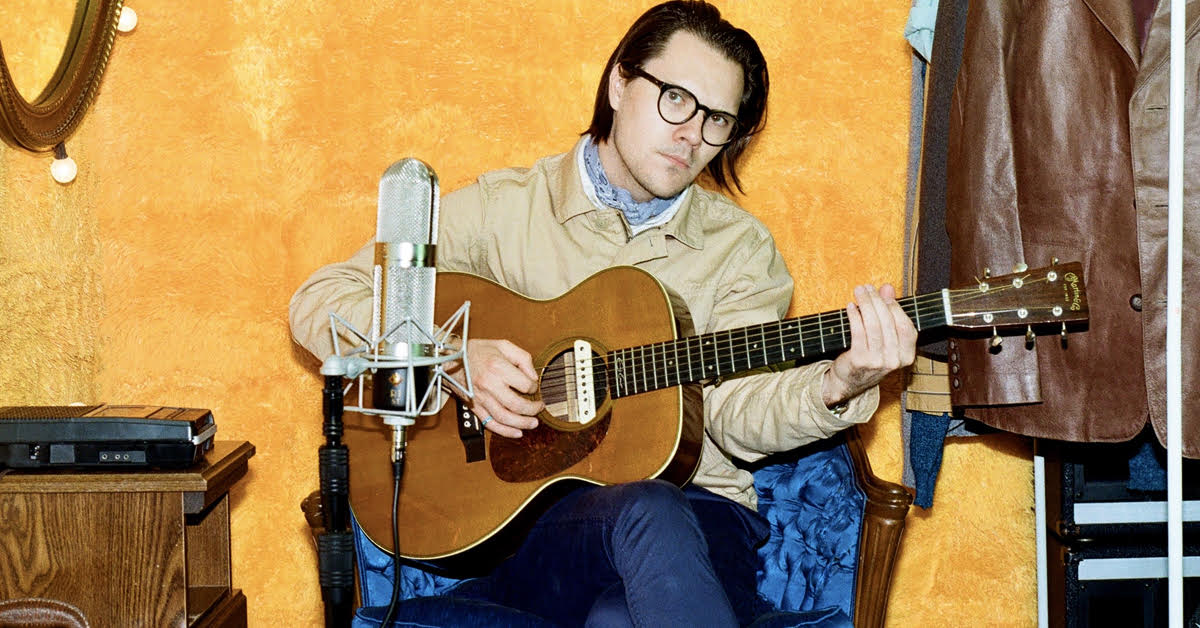 26 Mar

YOUNG RITUAL'S ELOQUENTLY RAW DOUBLE-SINGLE A/B CALLS YOU TO ADDRESS YOUR PAST

Young Ritual says he wants to be an icon, and we believe he's well on his way. (In case you've been sleeping on one of MMM's most-interviewed artists, Young Ritual is the Indie-Alternative passion project of Michigan-based singer-songwriter Dylan Grantham.) His authentic brand of eloquent, glistening Americana transcends entertainment, often drawing awareness to social and political issues and always summoning emotions for a purpose. In his just-released double-single A/B, featuring the quietly explosive, piano-driven "Peace of Mind" and beautifully blue, acoustic "Sondheim & David", Young Ritual challenges us to face our past for the sake of our future. (Yeah, it's a daunting task. But with each raw recollection Dylan shares about his own elaborate emotional knots, it somehow feels easier for us to identify and untangle our own.)

If Young Ritual's A/B was a member of your inner circle, he'd be your coolest friend. You know, the one that cares deeply, truly wants to see you shine, and shows it by addressing the most sensitive topics (instead of ignoring them). He's even willing to trudge you through the treacherous, murky waters of his past and point out his own pain, in an effort to help you locate, acknowledge, and work to resolve yours. The best part? Therapy never sounded so good. Listen while you read + make peace with your past.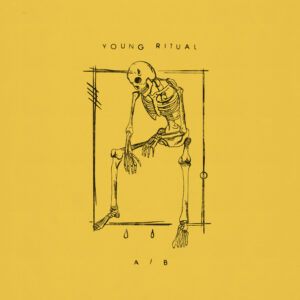 In this interview you'll learn all about Young Ritual's new double-single A/B, including: the aching story inside "Peace of Mind" + which indie riser (also an MMM favorite!) played the piano on this track; what's behind "Sondheim & David", where Dylan crafted these introspective lyrics; the most memorable part of recording A/B; how living in the Midwest continues to inspire Young Ritual's sound; what advice he has for artists planning to go live on social media for the first time; which music Dylan's been reaching for lately; what he's embraced (and discarded) so far in 2021; and what's next for Young Ritual.
Q + A:
"Peace Of Mind" is quietly explosive. What can you reveal about the aching story inside it?
Dylan: That track is my rejection of all the things I was taught growing up that don't fit with my ethics now. It's about the age where you hit a certain point of self-awareness and you don't believe everything you used to. That's a big part of being young but I think that's been accelerated for me in the time of COVID-19.
How did you manage to lace so much intimate feeling into a slower song? (+ is that you on the piano?!)
Dylan: I love slow songs because I can just stuff them full of those reflective emotions and lyrics. Haha. I think that's always my best blank canvas to really say something on. The piano is actually from my good buddy Aaron Senor of Dawning! I've done a lot more collaborating with friends digitally in the last year and this was the perfect setting for him to thrive.
What's behind the second single, "Sondheim & David"?
Dylan: Another song about change! How about it? This one leans heavy on nostalgia, in fact most of it is full of real experience. It's a reflection on times I've felt out of control or ashamed in social settings, relationships, professionally, etc. So much of A/B is really revealing myself in hopes that others will be inspired to do the same.
You always dare to unveil + explore complex emotional entanglements in your music. Why do you think you're able to safety bring us to the most tender spaces in our minds and return us with greater understanding?
Dylan: Well, I appreciate that you feel like I do that. I don't think I achieve that by any special power, I think I achieve it by just being relentlessly honest. People have a really good gauge on when someone is being sincere, and there's no more essential space to be sincere in than art spaces. The only way this works is if it's provoking, and honesty is the key to that.
Where did you find yourself crafting the majority of these introspective lyrics?
Dylan: I've truly been shut in for the duration of the pandemic, so everything has been flowing out of my studio space. I began pushing myself so hard at the start that I just destroyed myself. Haha. After some time reminding myself that my body and mind were worth preserving, I found the balance and started writing again. These songs were like the first breaths of fresh air after the rough months.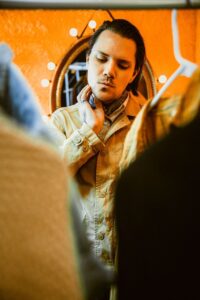 What were the most memorable moments of recording A/B?
Dylan: I'd say the most memorable aspect of it was having so much time to work on it. I'm usually fitting writing/recording around shows and a million other things, but this time I had time to obsess (which is in my nature) on exactly what I wanted. These tracks are raw, but I worked endlessly on getting that just how I wanted it. I'd also say these two just fit naturally together. I knew the very specific headspace I was in when writing them, so they have this beautiful continuity to them.
As a whole, what should listeners know about this double-single? What do you love most about its sound?

Dylan: I hope that people respect my vulnerability in both tracks. I keep saying that these tracks are about doing the work to better yourself and take care of yourself. They've absolutely been the medium I've used to do just that for myself in the past year. I also love that this release sounds nothing like anything I've done in the past. It's got this wonderful dark and lonely atmosphere to it that feels like shaking the rust before the summer.
How does living in the Midwest continue to inspire your artistry?
Dylan: God, I love the Midwest. I don't think I could truly describe everything this place has given me in my craft but there's no doubt it's touched everything I've ever done. The people out here just get back up no matter what and treasure this place. I can't imagine ever leaving Michigan because I just adore it. Perseverance, community, and humanity.
What music have you been reaching for lately?*
Dylan: Oh, man. That full Punisher record from Phoebe Bridgers has been nonstop since it came out last year, I'm always digging into John Prine, Townes Van Zandt, and Conor Oberst, and tons of great new music from buddies. In that arena, Michigander keeps setting the gold standard, and Au Gres is one of Michigan's most exciting new bands. Just sparkling and clean songwriting.
*BONUS: Hear ALL of Young Ritual's tracks + what Dylan's currently vibin' on by listening to our exclusive Spotify playlist: MMM: Young Ritual.
Caught your recent Instagram live session + loved it! As most venues continue to remain closed (due to the pandemic), how does it feel to perform for your fans in this way? Since you always appear so cool and collected, do you have any advice for other indie artists who have yet to take the social media live plunge?
Dylan: Thanks for hanging out! Yeah, I've really enjoyed using Instagram live as a way to invite people into my life while we are waiting out the ok to do that in person again. I love to debut new songs, play interesting covers, and take way too long tuning my guitar on there. My advice on that for those wanting to start doing it is to just RELAX. Don't worry about how many people you have watching or how long they stay. Make it about community and it might give folks the pick-me-up they didn't know they needed when they drop by.
What have you embraced in 2021? (Have you discarded anything?)
Dylan: I think the pandemic taught me what I can't live without. I can live without dining out, I can live without tons of travel, but I can't live without connecting with those I love. I've been so thankful to be inventive and find ways to connect with the folks I love. I learned what makes this life work for me and what is just extra.
What's next for your + your music?
Dylan: Next for me will hopefully be some safe opportunities to play in the summer and a return to the studio in the summer or fall!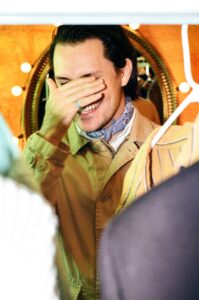 Connect with Young Ritual:
Instagram: https://www.instagram.com/youngritualmusic/
Facebook: https://www.facebook.com/YoungRitual/
Twitter: https://twitter.com/youngritual
Spotify: https://open.spotify.com/artist/27jZCie0WRZqEVMo1sE6l3?si=J3Gk5Rc8TDKsydfZwPEQdw
Listen to A/B:
Spotify: https://open.spotify.com/album/4gSQrQep1FJy3TQBGbBtTV?si=L0iU3pWqR_agIvQRMU9kMw
Soundcloud: https://soundcloud.com/user-399763918/sets/a-b
Bandcamp: https://youngritual.bandcamp.com/album/a-b
Apple Music + iTunes: https://music.apple.com/us/album/a-b-single/1554508996
Listen to what Young Ritual is Listening to (our exclusive playlist):
MMM: Young Ritual
Read more MMM interviews with Young Ritual:
Nov 2020: Young Ritual's "Together, Alone" Is A Moody Anthem To Brighten These Dark Days
https://mymultitrackmind.com/young-rituals-together-alone-is-a-moody-anthem-to-brighten-these-dark-days/
Dec 2018: Young Ritual Breaks Down His Debut EP, You Can Be Beautiful, Too
https://mymultitrackmind.com/young-ritual-breaks-down-his-debut-ep-you-can-be-beautiful-too/
Nov 2018: Young Ritual Shares Secrets About "Prime", "Rosary", And His Forthcoming Debut EP, "You Can Be Beautiful, Too"
https://mymultitrackmind.com/young-ritual-shares-secrets-about-prime-rosary-and-his-forthcoming-debut-ep-you-can-be-beautiful-too/
Aug 2018: Michigan-based Indie-Alternative Young Ritual Releases Reflective Single "Prime"
https://mymultitrackmind.com/michigan-based-indie-alternative-young-ritual-releases-reflective-single-prime/
Photos by Kris Herrmann
Album Artwork by Jake Beaver